HP41.org
DVD
Library
What's New
Emulation
Contributors
Links
FAQ
Contact
Policy
Forum
For Sale (4)
Community
Bookmarks
Login
HP-41 Archive DVD
This project began many years ago as an effort to preserve and distribute HP-41 manuals, software, books and literature. Today, this is the most extensive and complete collection available anywhere. If you would like to get a copy on DVD, you may purchase it below.


| | | | |
| --- | --- | --- | --- |
| Archive DVD | Contains everything on this site as of January 2013 except for the archives from the PPC and HPCC DataFile (may be purchased separately on CD from Jake Schwartz - see links). Each manual is a single, printable PDF file. Price includes worldwide shipping via First Class Airmail. You are responsible for paying import duties (if any). | $40 | |

I accept credit cards though PayPal. I also accept personal checks, postal money orders and bank drafts. Sorry, no wire transfers.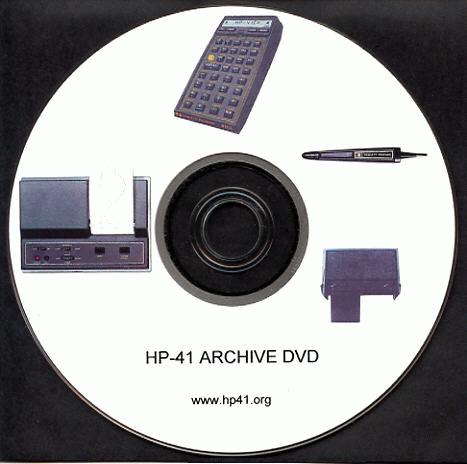 Media is warranted against defects for thirty days. No other warranties express or implied. Materials reproduced by permission.